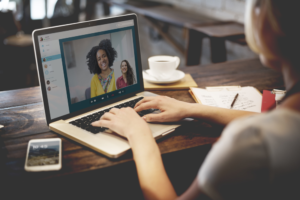 If you're considering making the switch to a counseling practice software, do less thinking and more doing! Here are three features that sold our customers on CounSol.com.
Personal Account Manager 
We know what you're thinking, "Not another software program where I have to chat with a bot if I have any questions." From the very beginning, we acknowledged how frustrating this feature was and opted against including it in our software. 
Instead, we chose to take customer service one step further by providing each and every user with their own account manager to serve as their go-to resource for all questions and suggestions. 
We found that this feature was critical in order to provide a high-quality experience for our clients. We understand how there might be a learning curve when transitioning to a counseling practice software, and we wanted to help people adapt as seamlessly as possible. 
Your account manager will get to know your practice, your expectations for the software, the way in which you structure your practice and anything else that will help them better serve you. Needless to say, you're going to love communicating with a real person versus a robot. 
Client Features 
There comes a time during your clients' experience where they will feel more comfortable and want to be more involved in the process. It was important to us to provide your clients with resources they can reference if or when they feel the need. This is why we implemented several features into our counseling practice software for your clients to access. 
One of these features is the private journal. Once your clients have access to your portal, they can enter with their unique login. This will allow them to find their private online journal to write in. 
However, it's up to them whether they want to share their journal with you or not. Some other features include virtually chatting with you, scheduling their own appointments, accessing documents you need them to fill out, etc. Our software is not only beneficial for you, but also for your clients, as well. 
Detailed Reports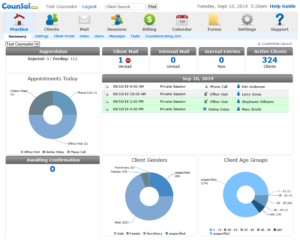 Our software is truly a one-stop solution for running your practice more efficiently. You can manage your entire business within CounSol.com and trust that all of your information is stored securely. You can easily access client details, upcoming tasks, billing and session reports, easy-to-read graphical analyses, and more. 
Choose CounSol.com For Your Counseling Practice Software
We're confident in our counseling practice software's ability, and our users can agree! Take a look at our testimonials to learn more about the user experience. You can also start a free trial with us today!
If you like this blog, you'll love this one as well: https://counsol.com/page/behavioral-health-practice-management-system/