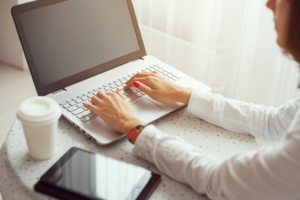 Data collection and accurate notes are critically important in effective treatment for clients. Choosing the right therapist EMR software can streamline this for you.
Therapy treatment is a process, and counselors understand the importance of maintaining accurate, detailed notes for each of their clients. For years counselors kept handwritten notes where they tracked details and treatment plans for many different clients. The introduction of therapist EMR software has made data collection and note-taking a much more efficient process. 
EMRs are electronic medical records that are designed to be used by a single practice. They contain information about therapy clients such as session notes, a diagnosis, a list of medications, billing and insurance forms, and all other relevant details.
How Do You Know Which Software is a Good Fit?
Choosing the right therapist EMR software can have a huge impact on your success as a practice. Our software offers a personalized, complete online practice management system that will help you improve each facet of your busy office. What should you look for in therapist EMR software? Here are our top three features to consider:
Security Features

Since you are handling sensitive, private medical information, it is imperative that you choose therapy EMR software that has the proper safety measures to keep your clients' information secure. Our software is HIPAA compliant and offers state-of-the-art security technology to protect your practice and your therapy clients. 
Our security system encrypts data and is backed up hourly. No sensitive client information is sent via email, and all therapy clients have a unique log in to access their accounts. Under our therapy EMR software, all user activity is recorded and stored so you can be assured all communication, data, and financial information is protected.
Additionally, our software offers personalized client sites and secure messaging. Our system prevents any outside individual from accessing information communicated between a client and their counselor. Within the private patient portal, your clients can also securely access their appointment schedule, bills, and a personal therapy journal. 
Customer Support
A great therapy EMR software can fall short when customer support is lacking. When the software used is such a critical part of your everyday activities, you need to know that you have access to assistance when needed. Consider the onboarding process and channels to reach customer support for your therapy EMR software. What kind of technical support is offered? It's important to know that your provider is there for you to get things up and running, along with troubleshooting when something goes wrong. 
It's likely you will have multiple staff members using your therapy EMR software, so what kind of training is offered with the purchase of your software? Is it user-friendly, and simple enough to manage when inputting large quantities of data? Top-notch customer support and training for all users is very important in making sure you are able to get the most out of your therapy EMR system.
At CounSol.com, we take pride in offering excellent customer service. We will get to know your practice and its unique needs, and your account manager will stay with you as your primary point of contact throughout your membership with us. We also offer technical support with a convenient email contact page and direct phone number where you can reach a representative during our business hours each day.
Cost of Therapist EMR Software
While your main focus in your therapy practice is treating clients, it is still a business. Your therapist EMR software will help you build and solidify your systems, and it should also be a good fit for you financially. Our software has a free 14-day trial so you can determine what level of service fits your needs. We also offer four levels of practice management pricing – standard, standard plus, premium, and premium plus. 

Contact us today to learn more. We look forward to helping you set up your new therapist EMR software.