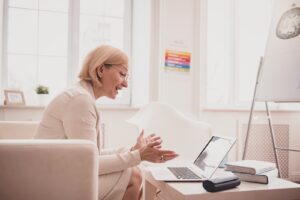 Mental healthcare providers everywhere are transitioning into using an Electronic Health Record, or EHR for therapists, to improve their quality of patient care. This EHR software is specially built with mental health care professionals in mind and is the key to helping your practice run more efficiently and in turn, help you provide better care for your patients.
Focus on what matters
Do you ever feel as if you are using up copious amounts of time with the administrative side of running your practice? CounSol's EHR for therapists saves you time and effort that would otherwise be used for keeping track of paper documents or filing insurance claims so that it can be better used on caring for your patients. CounSol's EHR for therapists is here to allow you to spend more time meeting with and counseling your patients instead of worrying about paperwork.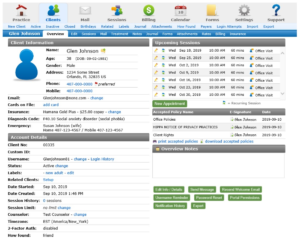 Patient portal benefits
Mark our words, your patients will thank you for using EHR for therapists. This software empowers patients by allowing them to schedule their appointments with ease and on their own time. Our EHR for therapists also allows them to opt into text message reminders for their appointments (which frees up your phone lines and decreases no-shows). If need be, patients are also able to communicate back and forth with your practice through our messaging features housed within the secure client portal. This ensures your patient's privacy stays protected throughout their care.
If you still need convincing, here is a great review from Emily G, LPC, CPCS on how both she and her patients have benefited from our EHR for therapists. 
"The features I most appreciate are the electronic scheduling feature, which has saved me hours each week that I used to spend playing email/phone tag with clients, only for them to respond after the offered time has been accepted by another client."
Information security
Both you and your patients can have peace of mind when using EHR for therapists to keep track of their personal and medical information. Our software guarantees that all of the patient's information (including records, results, and medication) are in the same, secure place that can be readily accessed by either party. Gone are the days of misplaced appointment notes or forgotten medication instructions- CounSol ensures that you and your patients stay on the same page about their treatment and care.
If you'd like to give our EHR for therapists a try, sign up for a free 14-day trial to see how it can truly benefit your practice and the care it provides for your patients.