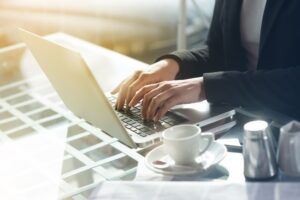 If you're looking for a way to run your business more efficiently, you've come to the right place. Here's how our psychotherapy notes software can help you manage everything with ease. 
With CounSol.com as your psychotherapy notes software, you can have complete practice management of your business with one easy access to the site. The software will allow you to manage everything from client notes, records, appointments and billing conveniently and efficiently, so that you have more time to focus on your clients and expand your practice. 
Client Scheduling & Calendar 
By using a psychotherapy notes software, you will be able to set your availability on your calendar for your clients to see. You can customize your calendar to show only the times and session lengths you want to offer, and choose to display by the hour, day, week, or month. This makes it easy to see what's scheduled and what remains available.

You can offer as many different session lengths as you want, each with its own listed rate, and add flexibility for your clients. Clients can then schedule appointments in any time slots you choose to make available. Online booking gives your clients more options and control over fitting sessions into their own schedules, which will increase the ease and frequency of appointments booked.
Secure Messaging And Live Online Chat
Having CounSol.com as your psychotherapy notes software will allow you to send and receive secure messages from your administrator account directly to your client's secure site. Our secure message system helps prevent any outside individual from accessing personal information communicated between client and counselor.

To get in touch with your client instantly, you can use our secure live online chat. This is the safest method to perform instant messaging for counseling, allowing you to connect with clients through your secure administrator account while clients access the chat from their secure client site to ensure full security and privacy. All online chat sessions are stored in your admin records, and chat sessions are of unlimited use.
Client Billing & Invoicing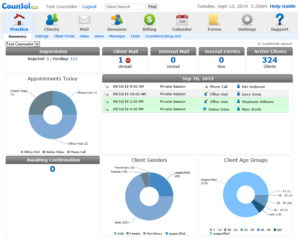 With our psychotherapy notes software, you can send invoice notifications via email to your clients, and process credit cards within CounSol.com using a third-party payment processor that we have partnered with. With a payment processor, your clients can pay their invoices directly online through your portal without needing you to be available. Your private admin keeps track of payments received and alerts you to any pending invoices. This feature will make it so much easier and efficient for you to manage the financial side of your practice. 
Our Client Testimonials
Take a look at what our happy clients have to say about having CounSol.com as their psychotherapy notes software: 
"I've been using CounSol.com for about 3 years now and it has streamlined my practice and saves me so much time. My clients frequently tell me how much they love the appointment reminders. Most of my clients keep a credit card on file and with a simple click the credit card is charged and invoice paid. I can now bill my weekly clients in about 5 minutes. My practice is now paperless and all my notes are kept online. It is a very easy program to use and the customer service is prompt and very helpful! I always recommend CounSol.com to my colleagues looking to use an online program."
Beth F. Psychotherapist
"My clients love how easy it is for them to book their appointments. I appreciate the ease in which my clients can move appointments around. It has reduced my no shows due to sending out reminders. This service acts as my receptionist."
Victoria Munoz, MC, LPC

Ready to streamline your business with our psychotherapy notes software? Contact us today to get started or sign up for a free 14-day trial!