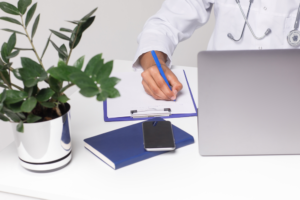 The future is online. Here's how we can benefit future generations together with our practice management software for mental health.
Normalize Therapy 
By creating a practice management software for mental health, we aim to normalize the idea of therapy by giving counselors a modern approach to obtain more clients. From a client's perspective, the thought of reaching out for help, setting up an appointment weeks in advance and bottling up your feelings until the day of your session sounds like a daunting and intimidating process. 
With CounSol.com, we give clients a unique login to access our site, fill out their private journal, securely direct message with their counselor, make their own appointments based on their counselor's availability and even do online video sessions in the comfort of their home. Therapy has become normalized in recent decades and we want to contribute to the movement by creating a platform that makes both parties happy and involved. 
Make It Easy For People To Seek Help 
As mentioned above, CounSol.com makes it simple for people to seek help. Finding a therapist or counselor that a client trusts and meshes well with can be a long process. This is a very personal commitment and they only want to share these details of their life with someone who gets them. 
We make it easy for you to find those special clients by offering online video sessions. Despite the fact that a client lives across the state from you, they no longer have to settle for another counselor or make the trip to see you. We aim to open all doors of possibility by allowing you to reach more clients and help more people.
Allow Counselors To Give More & Do Less 
One of the best parts about our practice management software for mental health is that it will become your one-stop shop for all things client-related. You'll be able to create custom forms for your clients to fill out prior to their sessions, create a custom client site that matches your current website, track analytics, give and receive invoices, set up your availability, and we even pair you with a personal account manager who can help you with anything along the way. 
Our initial goal when creating our practice management software for mental health is to transition everything you do in the office to an online platform that will eliminate dozens of minor tasks off your plate. If you're interested in jumping on board, start a free trial today!
If you like this blog, you'll love this one too: https://counsol.com/blog/mental-health-software/