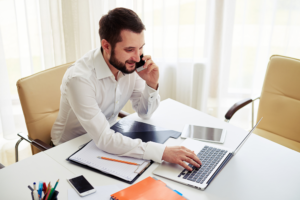 We've recently taken our psychotherapy notes software to a new level. Here's how our platform can change the way you manage your practice.
The digital age has greatly benefited mental health professionals with the convenience of online research and various features they can utilize to aid their practice. The launch of EHR and EMR systems has opened many doors for the industry in regards to transitioning to digital platforms– one of which involves the implementation of a psychotherapy notes software. 
A psychotherapy notes software has the ability to break down behavior until a diagnosis becomes clear. Mental health professionals use this feature for more consistent, strategic results. And we're sharing a couple of different ways you can implement it on our platform:
Client Progress Notes 
CounSol.com makes it simple to maintain accurate and up-to-date progress notes for your clients. We offer customizable forms that include diagnosis descriptions, current assessments, symptom descriptions, treatment plan status, notes and a plan of action with interventions. 
These notes are automatically saved in each client's folder for easy access. All information is securely stored and backed up hourly using a 256-bit encryption process at our Tier IV data center. You can then use these notes to determine a treatment plan for future actions. 
Wiley Treatment Planners 
We've partnered with Wiley to offer our clients the option of utilizing their prestigious Treatment Planners for an additional $20 per month per clinician. These treatment planners offer you the freedom to create customizable treatment plans with over 1,000 clear statements to describe behavioral manifestations. 
Wiley Treatment Planners have an easy-to-navigate format that includes DSM-5 diagnostic suggestions and ICD-10-CM codes for each behaviorally-based presenting problem. They are a great complement to our psychotherapy notes software and can help you reach a strong conclusion backed by research.
If you're interested in giving our psychotherapy notes software a try, start a free trial today! We'd be happy to help you manage your practice with CounSol.com.