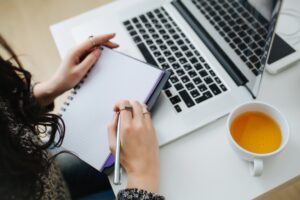 A Psychotherapy online notes system is a great way to streamline and manage your practice. There are many different software options out there for you to choose from, each offering your practice different features. Here are the top 5 features you should look for in a psychotherapy online notes system.
#1: Easy To Access
Forget a jam-packed filing cabinet. Find yourself a psychotherapy online notes system that can store all your mental health therapy notes in one central location. This way, you can organize digital files by the client, making it incredibly easy to access come appointment time.
This process maximizes client security and reduces the risk of losing any therapy notes or leaving them out unprotected. Our notes system provides each client with their own private portal, where clients have the option to access a personal journal that can be utilized (upon permission) to help guide your session.
#2: Keeps Information Up-To-Date
It's really important for your practice's credibility to maintain accurate and up-to-date progress when notetaking for your clients. Instead of having to sift through papers to find the one you're looking for, choose a system that compiles them into one place and allows you to filter your search.
Having a reliable virtual medium you can reference gives you peace of mind that no matter the circumstance, you'll be able to find the information you need to serve your clients. Check out our demos to see an example of what an effective psychotherapy online notes system should look like. 
#3: Analyzes Progress
Transitioning to digital documents not only allows you to source them with ease, but it also allows you to analyze your client's progress over time. A good psychotherapy online notes system should offer customizable diagnosis descriptions, current assessments, symptom descriptions, treatment plan status, notes and plan of action with interventions. Maintaining your client's records can be a breeze with software that includes all the above, like CounSol.com.
If you're interested in learning more about why our platform is the perfect notes system for your practice, sign up for a free trial and experience it for yourself! For additional questions/inquiries, please feel free to contact us and we'd be happy to address them.