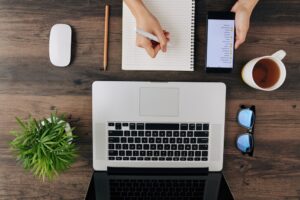 Searching for the best counseling practice software to help you manage your business more efficiently? Here are some important factors you should take into consideration when choosing one.
Personal Account Manager 
A common pain point that many people face when using a counseling practice software is the incapability of bots to address case-specific issues/concerns. Bots are great for addressing general questions in a timely manner. However, it can be very frustrating to rely on a bot to answer your case-specific questions as every case is different and answers can vary greatly. Because of this, we highly recommend looking for a high-quality counseling practice software like CounSol.com that also provides every user with an individual account manager to serve as their go-to resource for all questions and suggestions.  
Client Features
The more your clients use a counseling practice software, the more involved they'll want to be in the process. It is important that you look for client features to aid your clients such as a private online journal to write in, virtually chatting with you, accessing documents you need them to fill out, etc. These special features that are geared toward client satisfaction will ultimately benefit you as the business owner as well.
Comprehensive Task List 
Keeping an organized list of tasks is essential for many professionals as practices expand and responsibilities grow. Make sure your counseling practice software of choice includes a task list where you can create, organize, prioritize, and update a to-do list of tasks, like CounSol.com.
Robust Appointment Scheduling And Reminders
Choose a counseling practice software that can send automatic appointment reminders to your clients 24, 48, or 72 hours before their appointment time by email, text message, and/or phone call recording. Appointment reminders make your practice look professional and reduce the frequency of no-shows. 
Your software should offer a private admin calendar for both personal and professional use – clients will only see your set availability. Customize your calendar to show only the times and session lengths you want to offer, and choose to display by the hour, day, week, or month. This makes it easy to see what's scheduled and what remains available. Both clients and counselors have access to booking appointments based on your terms and preferred availability.
Secure Client Billing And Invoicing 
Ensuring that clients' payments are private and secure is essential to billing and invoicing online. A good counseling practice software like CounSol.com should allow you to send invoice notifications via email to your clients, and process credit cards using a third-party payment processor. With a payment processor, your clients can securely pay their invoices directly online through your portal without needing you to be available. The software's private admin should keep track of payments received and alert you to any pending invoices.
With CounSol.com, you can have all the important features listed above in your counseling practice software. For more information, check out our overview page or our testimonials. Get started with our 14-day FREE trial today!