Managing a private practice can be quite time-consuming and challenging. Here's how you can save time and streamline your process with our therapy EHR software. 
Secure Client Billing & Invoicing
WIth CounSol.com as your therapy EHR software, you'll have access to our client billing & invoicing feature. This will allow you to send invoice notifications via email to your clients, and process credit cards within CounSol.com using a third-party payment processor that we have partnered with.

With our secure payment processor, your clients can pay their invoices directly online through your portal without needing you to be available. We will also provide you with a private admin that keeps track of payments received and alerts you to any pending invoices. This way, you can easily and efficiently manage the financial side of your business. 
Comprehensive Task List
Another helpful feature of our therapy EHR software is the task list. Keeping an organized list of tasks is essential for many professionals as practices expand and responsibilities grow. With our task list, you can create, organize, prioritize, and update a to-do list of tasks within your CounSol.com account. This will help you keep track of all the things you need to do for the day to get them all done. 
Convenient Appointment Scheduling & Reminders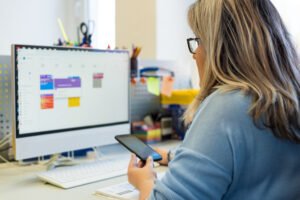 You can use your private admin calendar in our therapy EHR software for both personal and professional use – clients will only see your set availability.  Here, you can customize your calendar to show only the times and session lengths you want to offer, and choose to display by the hour, day, week, or month. This makes it easy to see what's scheduled and what remains available.

In addition to this, you can also set preferences and display options for clients to schedule online video sessions, online chat sessions, phone, and office appointments. Both clients and counselors have access to booking appointments based on your terms and preferred availability.
Once the appointment is scheduled, you can choose to set up automatic appointment reminders to your clients 24, 48, or 72 hours before their appointment time by email, text message, and/or phone call recording. Appointment reminders make your practice look professional and reduce the frequency of no-shows. 
Our Client Testimonials
We wouldn't be in this business if we didn't believe that we are offering the best therapy EHR software available. But we might be biased. So, why don't you hear it from our happy clients?

"I have been using CounSol.com since the beginning of my private practice 4 yrs. ago. I get great feedback from my clients on ease of use for them to register online. I have found the customer service to be very responsive to suggestions and my questions have always been answered the same day. The user interface is clean and simple. I have looked around at other services but I have not found others that offer the same service for a better price."
Joelle D. MD, MA, LPC
Little Traverse Family Counseling
"I have found CounSol.com to be extremely helpful in starting my business! What I love most about this software is how easy it makes billing, taking and keeping notes, and sending insurance claims. CounSol.com is like having an office assistant but for much less. Thank you CounSol.com!"
Jennifer C.
Licensed Professional Counselor
For more information on our therapy EHR software, you can check out our overview page or contact us with any questions. Get started with our 14-day FREE trial today!