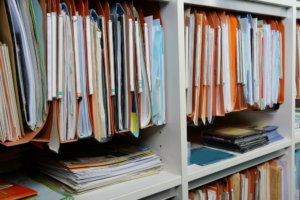 While there are many reasons to love our psychologist practice management software, we're sharing three of our customers' favorites with you below.
"Having made my practice fully paperless, I love working with this site– and so do my clients." – Donna C. 
In today's day and age, going paperless is a huge win for both the environment and maintaining a cost-effective office. Instead of having papers and locked filing cabinets everywhere, you can keep all of yours and your client's documents in one central, safe location. 
Our psychologist practice management software also allows you to create custom forms and questionnaires for your clients to fill out prior to their session. That way, you aren't wasting valuable time during your appointment to ensure you have all the proper documents filled out and turned in. Not to mention, all of these files are stored in your client's folder to visit for future reference. 
"I love getting email notifications that alert me to interactions from clients, as this enables me to respond as quickly as I prefer." – Dana A. 
When you start a free trial with CounSol.com, you're able to completely customize your client site to match your current website. This helps your clients ease into the transition seamlessly. Then, once your clients log in, they're given access to this platform that allows them to email you, schedule their own appointments, write in their private journal and more. 
Think of it as their own secret space that only the two of you can communicate through. The security of the client site helps patients feel more comfortable sharing information, even if it's behind a screen. This allows for more open communication during sessions and allows them to get something off their chest without having to wait for their appointment. 
"I love how the treatment, billing and scheduling are all seamlessly integrated." -Mika G.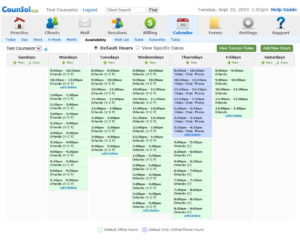 Did we mention that our psychologist practice management software allows you to bill your clients and keep track of invoices within? We also have treatment notes to help you follow along, and we offer Wiley Treatment Planners at an additional cost per psychologist. Everything you could ever need to run your practice has been thought of and integrated into CounSol.com.
Stay In Tune With Our Psychologist Practice Management Software
For more information about our psychologist practice management software, check out our tour page or testimonials. If you're ready to make the transition to digital, start a free trial today!