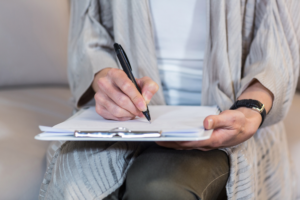 The market is expanding for therapy notes software. Here's how you can utilize ours to expand your practice's reach.
Step One: Customize Your Client Site To Match Your Current Website 
We aim to make your digital transition seamless by allowing you to create your custom site to match your brand. Our tools allow you to choose fonts, colors, images and the option to add text wherever you see fit. This way, your clients will recognize your practice right away and it will be much easier to adapt. 
All you have to do is post the HTML on your current site so that your clients can click the link that directs them to the secure client portal. From there, clients will be able to view their secure emails, write in their private journal, schedule appointments and feel more involved overall. 
Step Two: Take Advantage Of Our Custom Forms, Notes, Plans & Questionnaires
One of the best things about our therapy notes software is the ability to create your own optional and required client forms. These forms can range from practice terms, policy agreements, questionnaires and other documents that are unique to your practice. 
We also offer a template for progress notes and treatment plans that feature diagnosis descriptions, axis codes, current assessments, short-term and long-term goals, treatment objectives, symptom descriptions and much more. All forms can be filled out online and found in the client portal. Any information is safely and securely stored in your admin for your records. 
Step Three: Offer Online Sessions To Increase Clients Scheduled
Now that your practice has gone virtual, you're opening a whole new world of possibilities for potential clients looking for your expertise. Our therapy notes software allows you to offer secure online video counseling so that you can expand your reach across the state. With clients having the ability to schedule their own appointments and have therapy in the comfort of their home, you'll notice the number of no-shows decrease drastically and find that people will be much more focused.
 Our therapy notes software does all of the above and so much more. If you're interested in giving us a try, start a free trial today! You can also check out our testimonials to see why our clients choose CounSol.com.