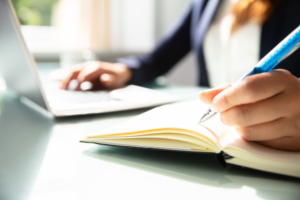 Are you considering testing out a therapy practice software in the new year? Here are three of our features you didn't know you needed until now.
1. The Electronic Scheduling Feature 
One of the most time-consuming aspects of running your own practice is working with clients to make appointments that work best for both of you. Sure, you could have certain times and days available, but life happens and things come up, causing rescheduling to be an inevitable process. 
That's why we knew we needed to design our therapy practice software to include an option that allowed clients to schedule and reschedule their own appointments. While this feature can be disabled based on personal preference, our testimonials claim that the interactive scheduling feature is one of the most popular among users. Our therapists are able to set available times throughout the day that are open for in-person or secured video sessions. You'll even have the ability to alter the price associated with each session! 
2. The Ease Of Online Billing 
If billing is your least favorite part of the job, you're in for a real treat. Our therapy practice software makes it easy for you to send invoice notifications via email to your clients, as well as process credit cards through CounSol.com using the third party payment processor we've partnered with. Now, your clients can directly log onto the portal to pay their invoices without needing your assistance. 
Insurance claims can also be created, claimed and viewed through our portal to ensure everything is all in the same place at the same time. Not to mention, our software is HIPAA compliant, which allows us to create a safe space for both yours and your clients' information. You won't know how you survived without these time-saving features! 
3. The Help From A Counselor Account Manager 
Although our software is considered user-friendly, there's always a learning curve when adapting to a new program. And while we could have set up a chat for support using our program, we decided to take our customer service feature one step further with a personal account manager! 
When you sign up for CounSol.com, you're assigned an account manager whose duty is to ensure your practice is running smoothly. If you have any questions, comments, concerns, ideas, or need any advice, you'll have a go-to person to direct all inquiries to. It's an added personal touch that our users rave over!
Give Our Therapy Practice Software A Try Today!
While we mentioned three features we know you'll love, there are so many more that can take your practice to new heights. To give our therapy practice software a try, start a free trial today!