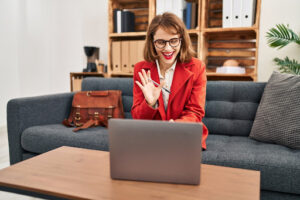 In a rapidly-advancing world of technology, your therapy practice must be able to keep up with the growing demand for video capabilities. HIPAA-compliant video conferencing from CounSol.com is the answer.
After COVID-19, the number of therapists using telepsychology—or online video conferencing—grew 12-fold, from 7% to 86%. The growing popularity of conducting therapy online has opened a broader client base for therapists, and lifestyle convenience for clients who work remote, travel often, or are simply looking for an easier way to fit therapy into their daily routine. 
Read on to learn why you should not overlook the benefits of offering HIPAA-compliant video conferencing at your therapy practice.
HIPAA-Compliant Video Conferencing
This refers to the use of digital technology to conduct a session between a licensed therapist and a client. The process is fully HIPAA-compliant, meaning all sensitive information is processed and stored as it would be for an in-person visit. Clients and therapists are able to use any device that has internet access, like a mobile phone or laptop, for their video call.
Video Conferencing Allows You to Reach a Greater Client Base
In-person therapy has many benefits, but the ease and simplicity of online sessions cannot be understated. Video calls can be accessed on any device in the comfort of your home, and they have been shown to be a more approachable option to those new to therapy, or those who live in rural areas. 
Video conferencing is also beneficial for people without the convenience of extra time during their week. It allows a parent to squeeze in a call during naptime without needing to schedule a babysitter, or a busy corporate worker to take a session during lunch break. 
Video Conferencing is Secure
One of the most common concerns about video conferencing is whether or not it is just as safe as traditional therapy. With a HIPAA-compliant video software like CounSol.com, you can rest easy knowing all online communication, payment processes, and records are fully secure. 
Not only are our servers housed in Tier-IV data with SSAE16, HITRUST, ISO 27001, and PCI 2.0 compliance, but we have taken steps beyond the basic requirements to further ensure the privacy of our therapists and clients. Each user has a unique login and no sensitive information is able to be sent via email.
Video Conferencing Can Be Conducted Within One Central Portal Site
Clients can easily access their portal by using the same login needed to schedule bookings and fill in their client journal. From there, they can directly access a video call on a laptop or mobile device without the requirement of any bothersome downloads.
Therapists can share their screen during a video session, as well as have access to a number of exciting features exclusively for online bookings. The process is streamlined, highly-responsive, and user-friendly for both parties.
Tips for Online Video Conferencing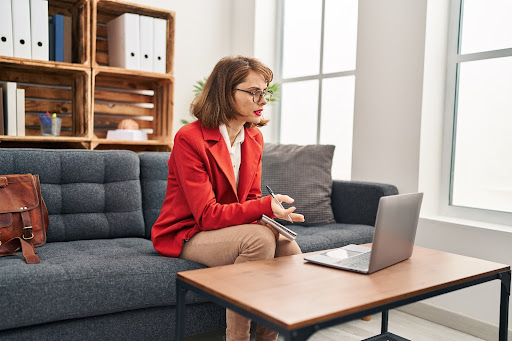 There are a few best practices your therapy practice can follow to mimic the traditional office environment and ensure your clients feel welcomed, seen, and heard during your video chat:
Test your lighting, internet connection, and audio beforehand.
Send your clients a welcome email with tips for a great video session.
Welcome clients with enthusiasm and take a moment to share your background, explain your plan for the session, and reiterate how you will silence distractions for the duration of the session.
Keep tabs on client body language during your call to ensure they are engaged and able to see and hear you.
Always have a backup plan for any unforeseen issues like slow internet connection or a computer glitch. 
Experience Video Conferencing with a CounSol.com Management Plan.
Subscribe to one of our 4 subscription plans with 20+ available features, or try a complimentary 14-day trial. See how our HIPAA-compliant video conferencing can boost your business today.