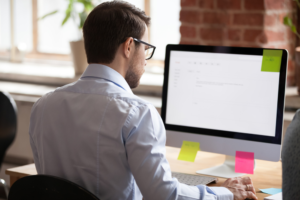 Transitioning your in-person practice to an online counseling business will save you loads of time and money in the long run. Here's how.
Start Your Day By Checking Your Internal Emails, Dashboard & Upcoming Appointments 
When you choose CounSol.com, your clients will be given a unique login to enter a client site that is intended to be a helpful resource during their journey. Once clients enter, they will be able to email you through the program, set up their own appointments, fill out any forms prior to their session, write in their private journal, securely chat with you if they have something on their mind, etc. This feature allows you to have more communication with them than ever, thus strengthening your relationship in the long run. 
Another feature mental health professionals benefit from when transitioning to an online counseling business is the dashboard. Our goal was to comprise all of the tasks you manage on a daily basis and turn them into a one-stop online shop. 
Your dashboard will notify you of your to-do list for the day, upcoming appointments, invoices that still need to be paid, and more. You can set this dashboard up to specifically meet your practice's unique needs. 
Then, Access Your Schedule & Determine Client Needs 
Did we mention that everything you'll ever need to run your practice can be stored directly in CounSol.com, which is backed up hourly using a 256-bit encryption data center? Now you know! 
Depending on the sessions you have scheduled for the day, you can send paperwork ahead of time that needs to be completed prior to the client's arrival. This helps to avoid the bottleneck of losing papers within a filing cabinet or wasting quality time during an allotted session. 
With CounSol.com, you also no longer need to worry about whether or not your clients will show up for their appointment. You can set up reminder to send out various times prior to their sessions, and you can offer video appointments directly through our platform. We've even found that clients are much more likely to be eager and present when they're able to schedule and reschedule their appointments themselves! 
Refer To The Detailed Reporting To Make Adjustments To Your Online Counseling Business
We know how important reporting can be in your industry. This is why we provide a detailed reporting section so that you can identify the number of sessions per week and per month, the number of sessions canceled, payments made this week and month, etc. CounSol.com makes it easy to understand your clients and run your practice more efficiently! 
For more information about transitioning to an online counseling business, contact us today or start a free trial! 
If you like this blog, you'll also love: