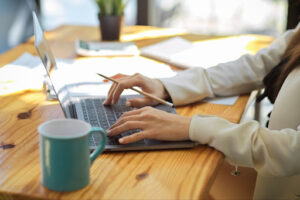 With constantly-advancing digital technology, there are so many benefits to building out your online therapy appointment portal and video capabilities—both for you and your clients.
Gone are the days of therapy limitations. Today, you can split your time between in-person and virtual appointments, or choose to run a fully-online practice. Online therapy services are projected to reach nearly $8,300,000 in value by 2030. 
By incorporating a therapy appointment portal and improved video sessions to your practice, you can save time, resources, and increase accessibility. 
How Does it Work?
Online video sessions provide comprehensive service in an identical format as traditional, in-person therapy. Clients will log into their portal and join a video call with their therapist for a designated duration of time. 
All video therapy requires is a laptop or mobile device with an internet connection, camera, and built-in microphone. Therapists may opt to use a headset to ensure the best sound quality for each appointment. 
A management platform like CounSol.com offers advanced video sessions that are HIPAA-compliant and take place within the protected client portal site. This feature is available for Premium and Premium Plus plans. 
All video features are built into CounSol.com software, which means there are never any downloads required. Therapists can share their screens and provide a full therapy experience to clients in the comfort of their home. 
Commute Benefits
Building out a complete therapy appointment portal and improved video sessions has a host of benefits for therapists and clients who commute to sessions—thus cutting back on traffic and parking issues. Even better: video sessions mean less weekly gas usage for both parties.
Time Benefits
By hosting video sessions a couple of days a week, you can complete appointments from the convenience of your home and lighten the workload for in-practice work days. 
This is also extremely beneficial for clients who might have a busy schedule, work long days in the office, or take care of children. With the use of video conferencing, meetings can be held any time of day, wherever you are (even while traveling), and on any device you have available. 
Scheduling Benefits
An online therapy appointment portal helps avoid the back-and-forth of appointment scheduling via phone or email. With the use of an online portal, you can pre-schedule your availability and clients can then book appointments at their leisure. 
The use of online video and scheduling capabilities can also mean less front-desk employees for your therapy practice, thus cutting back on staffing costs and saving you money.
Disability Benefits
The option of online therapy also provides a more accessible route for those with physical limitations or disabilities who might otherwise struggle getting to your practice.
Experience CounSol.com Today.
If you are looking to try out the appointment portal and video session capabilities, try our complimentary 14-day trial. 
Or, subscribe to one of our 4 subscription plans with 20+ available features and experience all that our time-saving and convenient platform can do for your business today.