At CounSol.com, we know that an easy to use interface is a must-have for therapy private practice software. No more struggling to find a software that's user friendly for both the patient and the practitioner – we have exactly what you've been looking for.
Complete practice management
When shopping around for therapy private practice software, mental health providers are looking for the peace of mind brought by complete practice management. You can achieve just that when using a singular tool to manage client notes, records, appointments, and billing for both online and offline clients. If you're worried about online safety when keeping all of your practice's information in one place, CounSol software is entirely encrypted and HIPAA compliant. Now you can rest assured that both your information and your patients' information is kept safe and in one place.
Client scheduling and calendar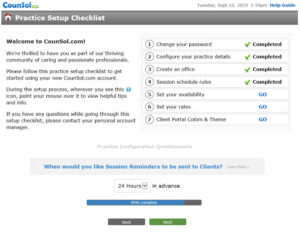 As we mentioned, CounSol therapy private practice software works seamlessly on the patient-facing side too. Patients can quickly log in to view their counselor's available time slots for the upcoming hour, day, week, and month. Are you ready to increase the frequency of appointments scheduled by patients? The ease of online scheduling will keep your clients coming back when they have control over fitting appointments into their schedules.
Client billing & invoicing
Managing your billing and invoicing is also made easy with CounSol. Keep billing matters online by using a therapy private practice software that sends invoice notifications via email and uses an integrated payment processor. This allows your clients to pay their invoices directly through the secure portal without needing you to be available. 
Personal account manager
Because our software was built with mental healthcare providers in mind, we are confident that you will have a great experience using our therapy private practice software. Even so, we know that questions come up and you may need assistance with personalizing the software for your practice's needs. Each new account is assigned to a single account manager who will assist you from the very start, get to know you and your practice's needs, and stay with you as your main contact throughout your membership at CounSol.com.
If you'd like to hear from our clients on their experiences using CounSol.com for their mental health practices, here is a great example:
"CounSol is very easy to use. There is no need to download software to use the site and my clients love the features – the journal – email – and ability to schedule with me themselves. I appreciate the layer of HIPAA security. The support is amazing and super responsive. My account manager is always available to help me with questions. CounSol is user-friendly and HIPAA secure!" – P.N.
The therapy private practice software you need is just a 14-day free trial away. Start getting to know our interface today and contact us with any of your questions.