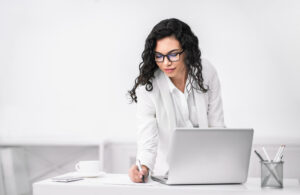 The transition from handwritten session notes and documentation to psychologist EHR software has been a significant improvement in the field of health and therapy. Today, there are more software options than ever, but not all systems save you time. Read on to discover how the state-of-the-art EHR platform from CounSol.com can give you back your time and keep your practice organized.
For any therapy practice to run smoothly and efficiently, systems must be in place to coordinate data, scheduling, and billing. The best EHR software integrates the components on a practice's client and counselor side. When it comes time to evaluate the EHR software in your practice, it is important to ask several questions:
Does Your Psychologist EHR Software Make Billing Easy?
Billing and invoice systems are significant components of successful therapy practices. However, billing systems can waste a lot of time if they are not simple and user-friendly for therapists and clients. The best psychologist EHR software includes immediate invoice notifications and simplified payment options.
The software from CounSol.com immediately alerts clients of an invoice via email and keeps payment records secure and accessible for future reference. Additionally, the CounSol.com system notifies therapy practice administrators of paid client invoices. Payments can also be processed anytime online through a secure third-party processor. 
Does Your Psychologist EHR Software Streamline Scheduling?
Along with a straightforward billing process comes the need for easy session scheduling inside a therapy practice. Often scheduling time for an in-person session can run into complications. Whether these restrictions involve health concerns or time restraints, EHR software should be part of the solution. 
The software platform at CounSol.com creates a more simplified and expedited process for session scheduling by giving clients the flexibility to schedule their appointments online for both in-person and virtual therapy sessions. Automated appointment reminders with options to send 24, 48, or 72 hours before the scheduled sessions reduce the frequency of no-shows and give your practice a professional edge.  
Does Your Psychologist EHR Software Simplify Claim Submissions and Paperwork?
Form completion and insurance claim submissions also take up a great deal of time inside therapy practices. Effective EHR software makes these tedious but necessary tasks easier and less time-consuming. However, a complete practice management EHR software will compile these essential documents in one secure portal and provide easy customization and pre-fill options.   
The software at CounSol.com creates a streamlined and expedited process for data collection and form completion. All documents and questionnaires are stored safely in the system, and client information is encrypted and backed up hourly at our Tier IV data center for privacy and protection.
Additionally, CounSol.com makes claim submission simple by coordinating with a third-party clearinghouse to submit your 837 EDI claims electronically and makes receiving ERAs through our platform feasible.  
The EHR Software From CounSol.com Can Save You Time Today
The world is becoming more digital every day. Ensure the electronic health records in your psychology practice keep up with the times and save you time. Psychologist EHR software from CounSol.com can help you spend your day counseling clients, not troubleshooting technology. Try our 14-day trial today and discover how our EHR software can help streamline your practice.