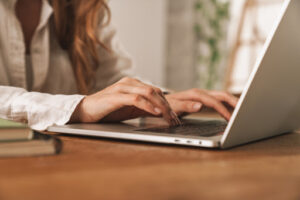 As therapy practices move from paper records to digital ones, a therapy EMR system can be helpful to both your practice and your clients' onboarding experience.
Before the internet, physicians' offices were stacked high with filing cabinets filled with patients' physical records. Entire rooms were needed to house this paper data. As more and more records go digital, we have the option to use EMRs in our practices. But what exactly is a therapy EMR and how can it help your client experience? Read on to find out.
What Is An EMR?
An EMR, or electronic medical record, is a digital chart that includes information such as clinical notes, diagnoses, medications, and other details related to the client. 
This record is designed to stay within one practice and is not to be shared across practices like its similarly named counterpart, the EHR, or electronic health record. Your EHR follows you from physician to physician, compiling all of your medical records along the way.
Here we will discuss our CounSol.com therapy EMR from the client's perspective and how it enhances their experience. Consider these questions when researching your therapy EMR system.
Can Clients Enter Their Information Prior To Their First Visit?
Remember when you had to arrive 30 minutes early to an appointment with a new physician so you'd have time to fill out all of the new patient paperwork? Thankfully, those days are behind us. Now, when a new client sets up an appointment, they are able to fill out these documents online through your therapy EMR. 
Clients enjoy the convenience of being able to fill out this information from the comfort of their home or anywhere they are able to hop online. The less time spent in the waiting room, the better.
With our program, clients no longer need to make a phone call to the front
desk for an appointment. They can simply log in to their account on your portal and set a new appointment or make changes to a scheduled one. 
Not only is this more convenient for your clients, it frees up your office staff to focus on patient care instead of being tied to the front desk phones.
Dawn L., a satisfied CounSol.com user, has this to say about appointment setting:
"Best EMR! My clients love having the flexibility of being able to schedule their own appointments, change appointments and print receipts as necessary. I love these features as well as the availability of electronic forms and encrypted email. Everything is intuitive and easy to use. Customer service is phenomenal."
Can Clients See Their Therapy Notes?
If a client needs to review a session, they can see their therapy notes in the CounSol.com portal. Having everything in one place makes it simple for clients to access their information and check their progress. 
Clients are also able to add their own notes to their EMR. This online two-way communication is a great way to build trust with their therapists and continue their treatment between face-to-face sessions. Clients can also have secure video sessions with their therapists if the need should arise.
Rick M. says he and his clients love these features:
"I have been using Counsol for three years. For the price, this EMR software is great. Very easy to use. I love the secured video option. My clients also love the journaling section. Overall very satisfied!"
Clients can feel confident that their information is kept confidential because CounSol.com's EMR system is HIPAA compliant. They can freely share with their therapists online, and all communication is encrypted in the portal.
Our clients leave us testimonials all the time, saying how much they enjoy working with our systems. John S. explains:
"Best overall EMR on the market. I've tried at least three other EMR software programs before using CounSol. Each one lacked in one or more areas but CounSol brings all of the features I need to my office. From online calendar and scheduling to secure conferencing and billing, I'm more than satisfied with this program. If I have questions or during the many times I needed assistance with set-up I called my account manager and they were eager to assist. I can't see myself using another EMR now that I have CounSol."
When you're ready to move to a therapy EMR, contact us to set up a free trial.